Main
Please Support Harinama Sankirtana
Hare Krishna, dear Vaishnavas, please accept our obeisances. All glories to Srila Prabhpada!
Our famous sankirtana bus has grown old, though it has become a spiritual legend, having served the mission of Lord Caitanya for 11 years. It is 27 years old and a lot of things are no longer working – next year we will not be able to pass the technical inspection and we decided to put it in the Monastery of the Holy Name in Lithuania as a museum of Harinam Sankirtana. We ask those who participated in tours on this bus to write their memories, and those who were inspired by the bus to also share their impressions. By mail: harinamabus@gmail.com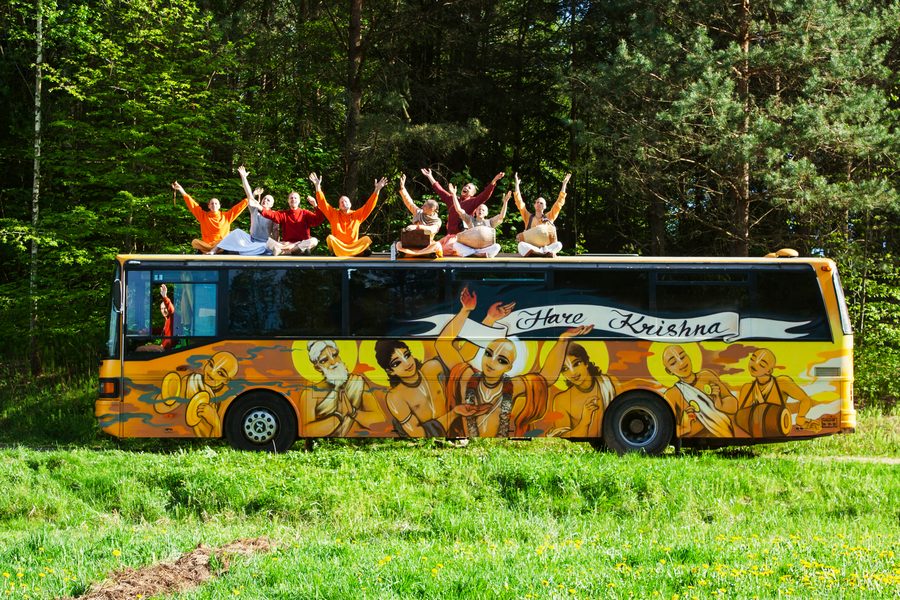 We traveled to almost all European countries, we even visited England at the 2012 Olympics. The bus preached about Krishna with all its appearance – from all sides and even on the roof – the names of Krishna and spiritual drawings. People in the cities and on the roads saw advertisements of our Krishna and read and chanted Hare Krishna. We held Harinam in big cities for 3-4 hours and many people heard the Holy Names. The bus made it possible to recruit more than 20 brahmacaris to the team, which made the Harinama stronger and more relishing.
We want to continue serving Harinam Sankirtana and we are asking you to help raise funds for a new bus that is at maximum 10 years old and that the emission number is Euro 5, this will allow us to enter cities that do not allow old buses.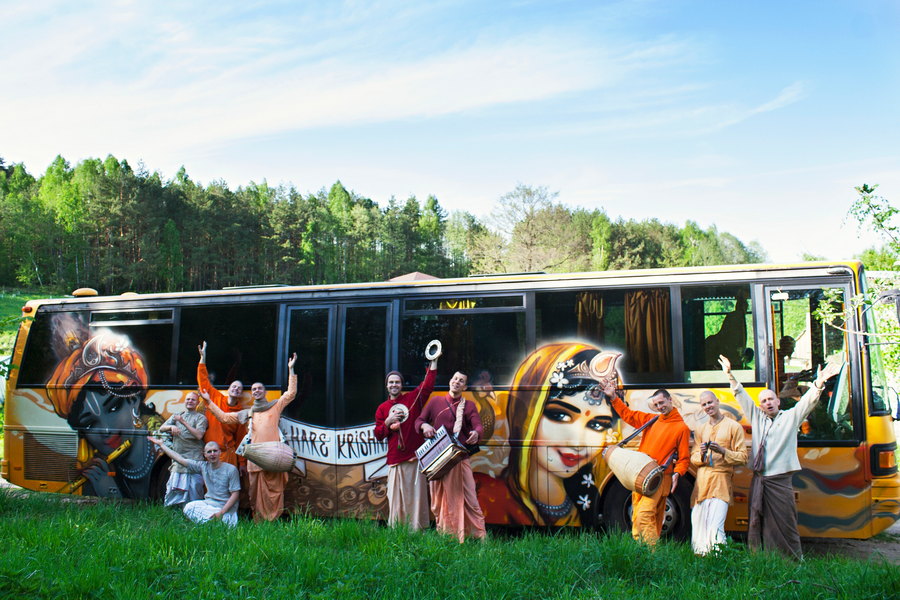 We have had several big bus breakdowns. Once we had to live for 3 days in the bus that was in a repair hangar in Poland, another time the bus broke down right in the mountains of Croatia and it had to be evacuated and the repair took 7 days. We don't want to risk the Vaisnavas, so we want to take a bus that is more movable, and the price for such a transport is over 50,000 euros. The fundraising will last until the spring of 2023, and all funds will be used to purchase and equip the bus, as well as a minibus, without which it is very difficult for us to bring Vaishnavas from the Monastery to Vilnius and Kaunas for Harinam 3-4 times a week.
At present we have only one normal minibus for 9 people, and brahmacharis and monks are 20 in number. Our second minibus is old and the risk of traveling on it has increased, and also next year it may not pass the technical inspection. We would like to purchase a minibus already this autumn.
We will be very grateful for any financial assistance and also for the distribution of this announcement on your social networks.
Servants of the Holy Name Monastery, of Sri Sri Radha-Govinda, Sri Nartana-priya Nitai, Sri Nata-vara Gaura and Srila Prabhupada.
P.S.
Soon there will be a separate site with memories of the 11 years of service of our vimana and the Vaishnavas. Kindly send to us video, photo material and stories, impressions about the bus and Harinama tours 2012-2022 and inspiration for chanting the Holy Names and participating in Harinama, thanks to the meeting with Harinam Mandira group and our transcendental bus. By mail: harinamabus@gmail.com
His Holiness Ananda Vardhana Swami
Our details for donation: https://harinammandir.com/en/donation/
With note: Harinama Bus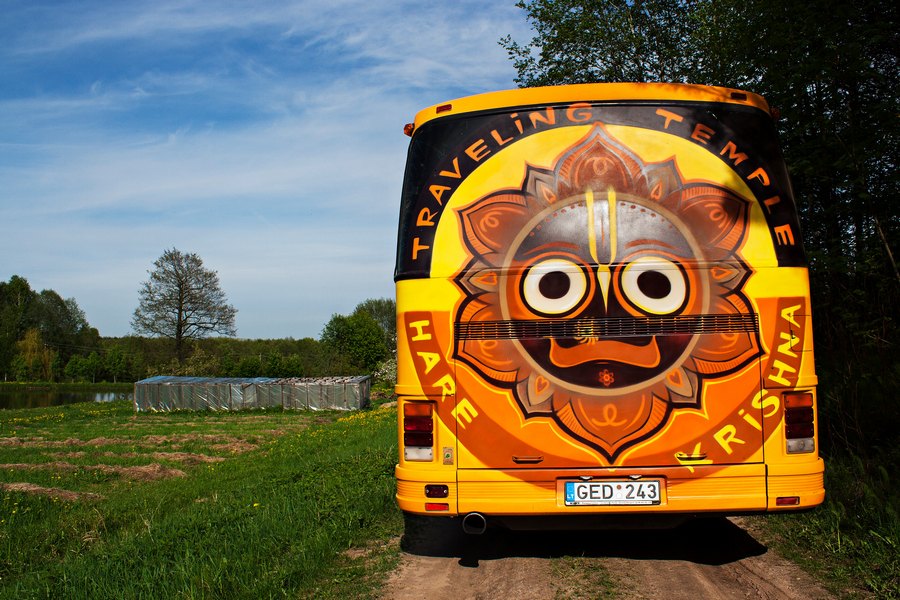 Srila Prabhupada letters:
"It is very good that you have purchased a third bus and also that you are rotating the men. This is a good idea. …
So go on with your preaching solidly. Krishna will be pleased and Caitanya Mahaprabhu will be kind. He is already kind. You simply have to go village to village, and your life will be perfect."
Letter to Tamala Krsna, Bombay
21 November, 1974
"I was extremely pleased to hear your report from your travelling buses. It sounds as if your program is very very wonderful and I am very encouraged to hear that such a program is coming along so nicely… So organize hundreds of such parties. This is fulfilling the mission of Sri Caitanya Mahaprabhu. I am very glad to hear that not only you are maintaining such program but that you want to expand it. Yes, this is our philosophy; anandambuddhi vardhanam. It means to expand or to increase. Therefore I strongly encourage you to double your program by getting three more buses if you can do it. There is no difficulty. … "
Letter to Tamala Krsna, Bombay
28 December, 1974
About Monastery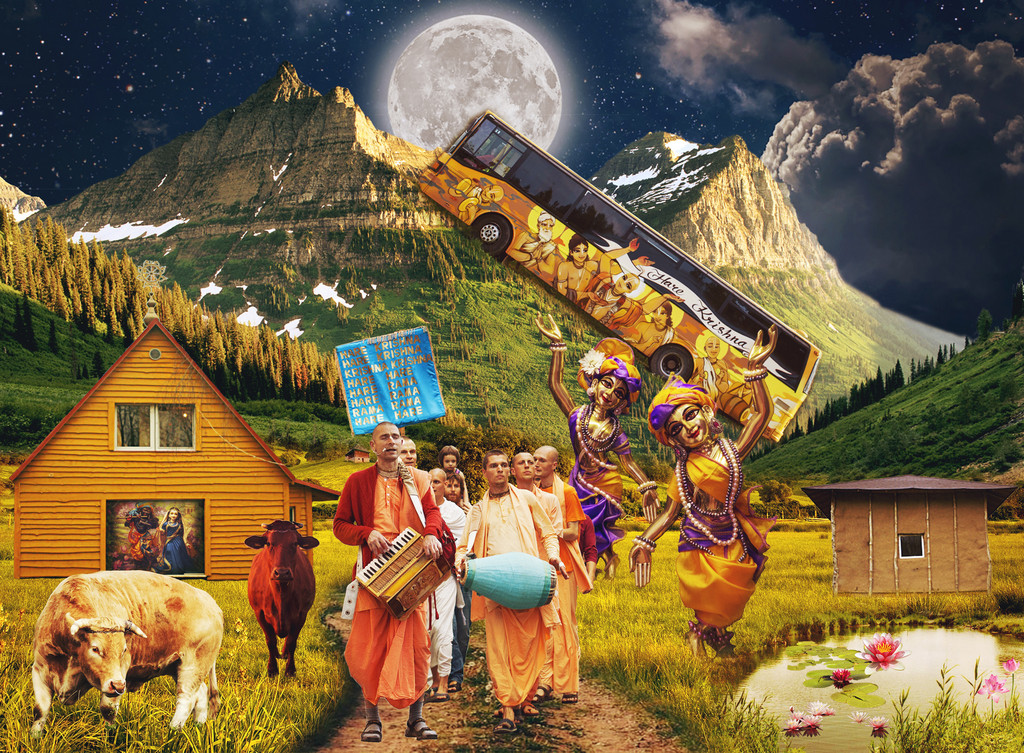 The main activity of our team is Harinama Sankitana (spreading the glories of the holy name of the Lord). To make this service more efficient and to inspire other devotees, we decided to establish the Monastery of the Holy Name. Ananda Vardhana Prabhu created the idea of this project in 2011. In 2014, Dasharatha Suta Prabhu donated the land for the construction of the Monastery.
The goals of the Monastery:
1. Training of the Bramacharies (novices).
We are training and educating brahmacharies in the spirit of Krishna Consciousness. This is based on the chanting of the Holy Name (japa (on beads), kirtan (congregational), Harinama Sankirtana (on streets)), Deity service, good sadhana (daily spiritual practice), playing musical instrument and leading a kirtan; studying and distributing of the Srila Prabhupada's books.
2. Support of the Vanaprasthas (renouncients).
We provide a place for vanaprasthas to live, where they are given care. Vanaprastha devotees have an opportunity to stay in Vaishnava society until the end of their days and get inspiration, communication, and care, which helps them to concentrate fully on the main purpose of life – love for Krishna. Their presence is strengthening the faith and the desire of the brahmacharies to continue their service in the monastery.
3. Devotee care.
We provide an opportunity for devotees in men's bodies from other communities to try the spiritual atmosphere of the monastery for themselves and to receive proper education, training, inspiration and the opportunity to seriously engage in spiritual practice in a friendly atmosphere of like-minded people, under the high experience of the abbot and spiritual leader Anand Vardhana Swami.
The Monastery is situated in Lithuania, 10 km to the north from the middle of the Kaunas-Vilnius highway (there is a train station at Zasliai, 4 km from the Monastery). Nearby is situated a nature reserve. On the territory of the Monastery, which is 14 ga, there are two dwellings (wooden and brick), separate huts for renouncients (kutirs), cow-house, work-house, altar room greenhouses, vegetable garden, fruit trees and bushes.
Project is approved by:
HH Bhakti Caitanya Swami – GBC Baltic states
HH Bhakti Vijnana Goswami – initiating spiritual master in ISKCON
HH Niranjana Swami – GBC in Lithuania